Since my preferred browser has always been Firefox, I thought I'd give the ScribeFire add-on a try. I would have been posting away with joy if it were not for my lame-slow Internet connection which I have to bear for another week.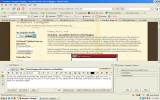 Having the tool taking over half of my browser space took a little time to get used to, but it's worth it for the convenience it gives me. I'm especially impressed with the multi-blog site and platform support, making it easy for me to switch from one blog to another whenever I feel the need to post in either one of the sites I own. I also like the fact that when I need to add a link I have copied, ScribeFire grabs the URL and automatically inserts it in the Add a Link option, then all I needed to do is click OK and the URL's part of my post's hyperlink.
I may take Wanderer Thoughts' recommendation to use DashBlog, though. The part that caught my eye with this tool is its integration with Twitter. Active Twitter users may find this tool convenient for their use.
---
Check out my other posts: « Spark for network / Invisible Olympics »